Originally sold by our team in 2017 for $19,335,000 to a local investor, the property has recently changed hands after being successfully rezoned in October of 2020 and with additional rezoning potential through the Broadway Draft Plan. The approved rezoning is summarized as below:
-Floor space ratio (FSR) of 7.75
-20,284 sq. ft. of retail space
-104,755 sq. ft. of office space
-Total floor area of 125,039 sq. ft.
-Building height of 147.67 ft.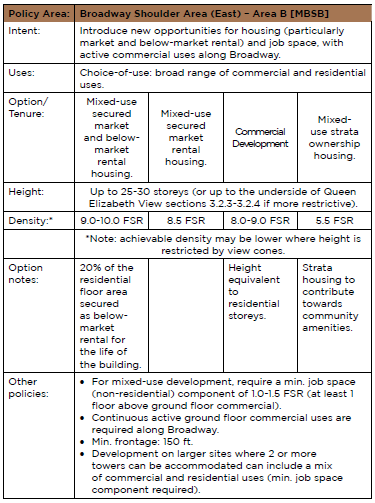 Based on the Broadway Draft Plan (Broadway Shoulder Area (East) [MBSB], there is additional density and height available beyond what was approved in the 2020 rezoning. The new owners of the site could persue up to a maximum of 9.0 FSR (up from the approved 7.75 FSR) for office and heights up to 25-30 storeys (up from the approved 12 storey form).