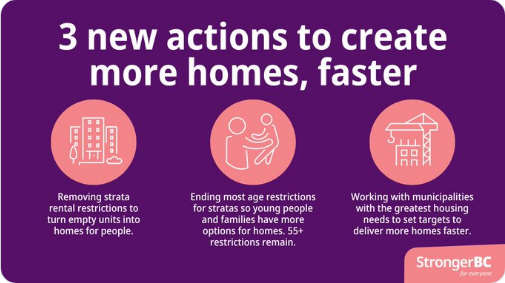 Newly appointed BC Premier David Eby announced his 3-part plan to address BC's housing affordability and supply crunch this week. Two of the measures can be implemented quickly, potentially adding a few thousand units into the rental pool. These include:
Removing age restrictions in most strata buildings
This has the potential to free-up additional family sized units into the market by helping remove some barriers for renters with children. Also, it would allow for tenants to remain in their current accommodations if they subsequently had children. What remains to be seen is whether families have the means to afford the same rents or pay more than existing tenants in buildings with age restrictions.  
Strata Rental Bans
Removing rental bans in stratas is another potential way of adding units into the rental pool by freeing up unoccupied units. It is estimated that there are 2,900 empty condos that cannot be rented out due to strata rules, some of which will likely be added to the rental supply pool.
Housing Supply Act
According to the news release, Eby and the NDP intend to:
-Work with municipalities to set housing targets and make
sure the homes people need get built
-Speed up housing development and increase supply by giving the Province the
power to set housing targets in municipalities with the greatest need and
highest projected growth
-New housing targets will encourage municipalities to address local barriers to
construction so that housing can get built faster, including updating zoning bylaws and streamlining local development approval processes
-Housing Supply Act is scheduled to be brought into force in mid-2023
David Eby has already waded into the municipal housing/zoning
debate several times with the goal of increasing the number of housing units,
including the Broadway Plan. In the past Eby threatened to take away land use
regulations away from municipalities if they did not add significant housing supply,
especially around Provincially funded infrastructure (ie. rapid transit
systems).
It is unclear how they will go about setting housing targets
and what they would do to enforce compliance. What is clear is that after 5
years in power the current NDP government has done little or nothing to
alleviate the housing crisis in BC, the lease affordable province in Canada, as
well as in Vancouver, the 3rd least affordable city in the world. As
Canada increases its immigration targets to almost 500,000 newcomers, the
pressure is on to deliver quantifiable change instead of more campaign talk and
broken promises.