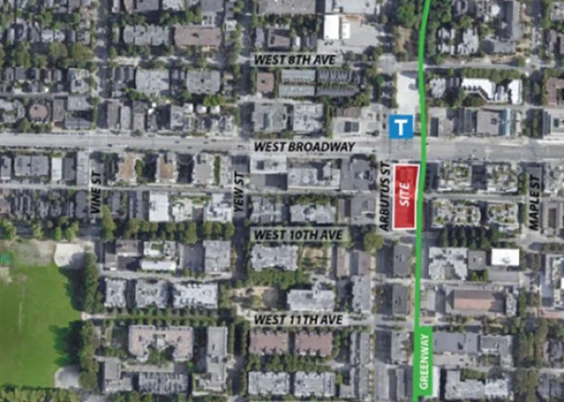 Translink has announced that it plans on partnering with developer PCI to build a 30 storey rental tower across the street from the Arbutus Street Broadway Line Station. This would be Translink's first example of building its own transit oriented development, which will provide additional income streams. This model has existed for decades in advanced cities such as Tokyo, where private and public railways/subway operators connect stations with large mixed-use developments which typically include department stores, grocery stores, offices and residences.
PCI is the most experienced transit oriented developer in Metro Vancouver, with several key projects including: Marine Gateway (Marine Drive Canada Line Station), Crossroads (Broadway Canada Line Station), and King George Hub in Surrey. They are also in the process of constructing Vancouver's tallest tower outside Downtown above the future Granville Broadway Line Station.
It is believed that the project will include approximately 200 secured rental units, including 20% of units at below market rents. In addition to retail uses at grade, the project is also likely to include a cultural center. The project is likely to pursue the maximum allowable density under the Broadway Plan, which is 10.5 FSR.